Free/Libre Open Source Software (F/LOSS) projects have always been community-driven affairs. Many of the tools that we use at Codethink are the result of years of passionate work put in by dedicated developers. They use their free time to provide the world with useful, thoughtful and creative software.
So it's no surprise that a project like Linux has developed a vibrant community that loves all things related to the operating system. Since its release in 1991, fans have organised meet-ups everywhere to gather Linux users under one roof. In the UK alone there are over 80 Linux user groups, and though they vary in their activity and in their size, they all share one thing in common: they are gatherings for those who share a passion and dedication for their favourite open source operating system. Many of them feature talks from a number of guests, who speak about topics relating to Linux and to the wider FLOSS world.
One such club is Manchester's Linux User Group (ManLUG) (Fig. 1), the oldest of the UK's various user groups, created in 1994 to celebrate all things Linux. Born in the University of Manchester, this was also the birthplace of the world's first ever Linux distribution fit for use out of the box, MCC Interim Linux (Fig. 2). Though MCC has been left behind far in the past, ManLUG is still alive today, and continues to hold monthly meet-ups. As of writing, this month's talk in Manchester's Central Library, for example, explores a number of 'fun bugs' and unintended glitches that programmers might run into when developing their applications.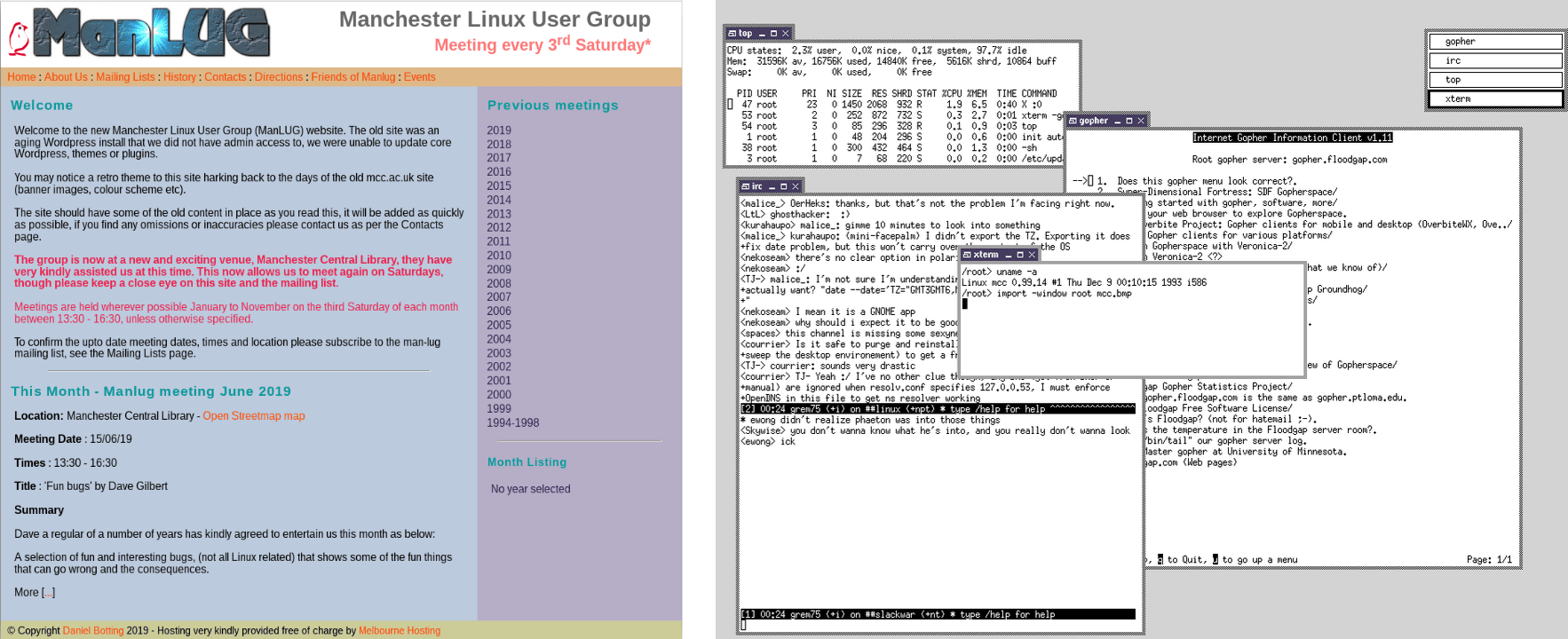 Left: Figure 1, ManLUG website; Right: Figure 2, MCC Interim Linux desktop


Though speakers are often a key part of the agenda, ManLUG organiser and Codethink troubleshooter Daniel Botting says the real purpose of these meet-ups is to bring like-minded individuals together and allow them to connect over their passion for F/LOSS.
"[I]t's not a whole lot of people who have already been coming for years, chatting in a corner… Anybody comes along, I want to make everybody feel a part of it."
In speaking to Daniel, two things clicked instantly for me. The first was the fact that ManLUG was as grassroots as it gets. "When I first started using [Linux] I didn't know my way around the filesystem, or how to start a program at a terminal or anything," he tells me. Like most other user groups, Daniel's gatherings are organised by him, for free, to provide those Linux users in the Manchester area with an event in which they can learn from, seek help from, and give help to other Linux users in the same area, much as he had done when he first started out. In conversation about the organisation, he tells me, "We don't need financial assistance because we're not a for-profit group." As a fact, the User Group did not hold a single meeting for all of 2010 after the University of Manchester, which had until then hosted the group free of charge, informed the organisers that it would begin to charge for use of the previously used rooms. Instead of charging its members, ManLUG refused to meet completely. So when I asked Daniel how interested companies could become involved with Linux User Groups, he ignored the potential monetary gain. "What we look for is content. Content is key — that's what brings people back to the meetings."
ManLUG's mantra truly is 'by the fans, for the fans'.
The second thing that clicked for me was the fact that, despite the growing popularity of online forums making meet-ups seem increasingly redundant, they aren't going anywhere. "A lot of people still come for the talks. In some respects it's changed, but in others it's very much still the same. I think that people, like myself, would rather talk to people. I think there's the social element as well — people come along and they find out more, they learn more from the experience." The talks are a draw, often providing a more intimate setting for which to learn about pieces of software that can be puzzling to understand through just your browser. In the same vein, after these are done, the sort of help one can expect at the vent in troubleshooting something is much more comprehensive, and hands-on, than anything you could expect over the internet. "You know, you get someone going along with an old piece of software or hardware, and they've got a wireless issue that they can't work around, and everyone sort of groups around, you know, to find out what it says on dmesg, download the relevant drivers and get it working." When it comes to issues with specific combinations of software and hardware, it can often be difficult to find helpful advice on the internet.
Beyond talks and troubleshooting, however, the core draw of Linux User Groups remains the sense of community. "Certainly, it's the friendships" he affirms. Daniel has certainly gained a lot more than that from his participation in the User Group; in fact, Daniel found his current Sysadmin role at Codethink as a result of his boss hunting for talent on the ManLUG mailing list. "[M]y boss here put a post on the ManLUG mailing list which I responded to at the time". If it were just a case of job-hunting, however, he would have never bothered attending any of the ensuing meetings. Instead, he has been organising them for 8 years. In the end, it makes sense: what could be more attractive to a Linux enthusiast than gathering with a bunch of other Linux enthusiasts to talk about the latest news in FOSS, the bugs bugging them, and their favourite text editors?
To finish, he talks about his favourite experience from his time attending and organising the events, and he tells me about one particular talk. "We had a talk from somebody from the distribution with the little green chameleon as the mascot, and he asked if anyone wanted some freebies." Intrigued, I listened carefully. "He launched the mascot toward me and it hit me in the face." He gestured with his hand, as if a rock had struck him in the face. Perplexed, I asked him if that really was one of his favourite memories. He nods, smiles, and emphasises:
"That's one of my favourite memories from ManLUG."

---
Watch Daniel share his thoughts and experiences in the clips below.